Do you like the idea of being able to unwind in your outdoor space after a hard day's work? Spending some outdoor time during the night will be much more enjoyable if there is a fire pit to keep you warm.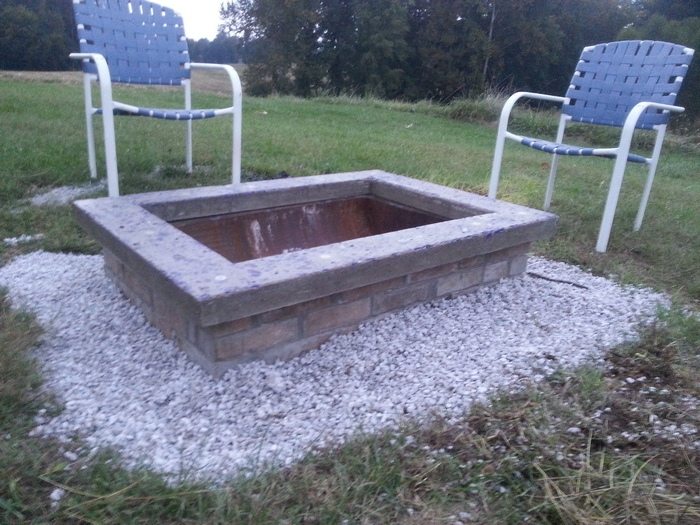 Here's a fire pit project that allows you to personalise the edge. If you haven't tried making a mosaic before, this could be it.
This weekend project is suitable for those who have smaller outdoor space and don't need to move fire pits from time to time.
Could this be the fire pit for your yard?
Materials:
Quikrete (2 x 80lb. bags and 2 x 5000 mix)
Mortar (2 bags)
Bricks (standard red)
2×4's (pallets)
55 gallon drum (cut in half long ways)
One 4'x8′ sheet of malamine wood (reclaimed scrap from wood working shop)
Large box of 3″ wood screws
Tube of caulk (silicone)
Re-mesh and wire
Broken bottles of your favorite color (b** light platinum : blue)
Spent 12 gauge shell casings with plastic cut off
67 camaro emblem
Gravel for leveling
Tools:
Table saw
Miter saw
Trowel
Wheel barrow
Hoe and shovel
Rubber mallet
Drill
Cut off wheel
Click on any image to start lightbox display.  Use your Esc key to close the lightbox.  You can also view the images as a slideshow if you prefer.
Steps:
Creating your blueprints. Now that you know what materials you will be using its time to begin putting the design on paper. Since you know the design will be based around a 55 gallon barrel we can begin by drawing the dimensions to scale on graph paper or in a cad program.  The barrel i used has the dimensions 23.5″ x 34.5″ which means that the inside edge of the foundation needs to be larger than that. Lets start by drawing the 2×4 forms we will be setting in place to pour the foundation.
Foundation blueprints. To create the foundation blueprints we will start by drawing the actual dimensions of the foundation itself to scale using graph paper. Next we will encase the foundation in forms by drawing 2×4's to scale around the inside and outside of the foundation. This way we can double check our math on what length to cut each 2×4.
Foundation cut-list:
2 x 24″
2 x 32″
2 x 39″
2 x 47″
Capstone blueprints. Creating the capstone blueprints are almost exactly like the foundation blueprints with the exception that you will cut the inside walls with 45 degree miters. This is done to keep the water saturated concrete from swelling the inner layer of wood in the malemine which is basically just compacted sawdust.
Capstone cut-list:
2 x 35″ w/45 degree miter
2 x 24″ w/45 degree miter
2 x 37.5″
2 x 47″
Now that you have your blueprints, lets get some real work done. Start by digging out an area about twice the size as your pit. Dig down 6 to 8 inches and make sure to inform your neighbors its not a grave. Try to dig it out somewhat level.
If you purchased gravel now is the time to use it.Pour A 3-ish inch layer of gravel and get it level-ish. Make sure to tamp the gravel down with something i used a hoe. Once you have a level-ish surface it should get you looking somewhat like this…
Now get out your foundation blueprints and cut-list and begin cutting your 2×4's to proper length. Now you can construct two boxes which will create the foundation forms for the concrete. Pay special attention to squareness and levelness while constructing your forms it will make it easier on you in the long run. Once the forms are complete lay them in your dug hole and center them up. True them to each other by measuring the distance in between the inside and outside form in several spots while adjusting them.
Once your forms are in place level them ( this may be one of the most important steps ) make sure that they are not only level but level with one another by placing the level across both forms in several spots. This step may take some time but time well spent here will make it easier for the duration of the project.
Continued Page 2…