If you're short on space, this loft bed could be the solution. Combining a desk, hanging space, shelving, and a place to sleep, it gives you everything you need in a bedroom. You could even use the second top shelf as a "bedside table".
Our Pick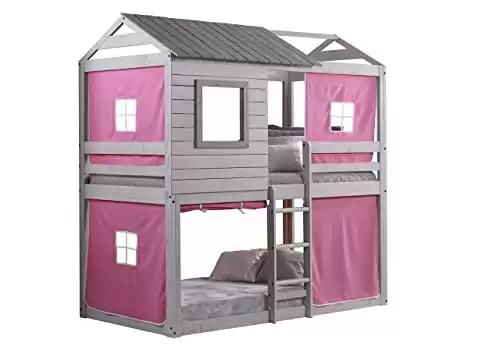 Bunk Loft Bed - Light Grey
This bed also has a mattress-ready slat system, eliminating the need for a Bunkie board.
Buy on Amazon
We earn a commission if you make a purchase, at no additional cost to you.
12/01/2022 07:04 am GMT
Now isn't that a clever use of space? This design is perfect for those who lack space and requires functionality.
Click on any image to start the lightbox display. Use your Esc key to close the lightbox. 8-)
The design can be easily modified to suit your needs. You can extend the desk to full width under the bed if you need a wider workspace? This design also allows the easy addition of storage space as you require.
What other modifications would you make if this was yours?
Materials:
4 pcs – 2″ x 6″ x 10′ Construction Timber (carefully selected)
6 pcs – 2″ x 4″ x 10′ Construction Timber (carefully selected)
3 pcs – 2″ x 10″ x 10′ Construction Timber (carefully selected)
3″ Deck Screws
1/2 sheet – 1/4″ Plywood
1 1/2 sheets – 5/8″ Plywood, construction grade
1 sheet – 5/8″ Plywood, one side sanded
4 1/4″ x 6″ Lag Screws with Washers
Wood Filler
Paint
Tools:
Circular Saw
Orbital Sander
Jigsaw
Router
Tape Measure
Square
Level
Stud Finder
Cordless Drill
Steps:
Here are the general dimensions for my loft bed. Adjust measurements as needed :)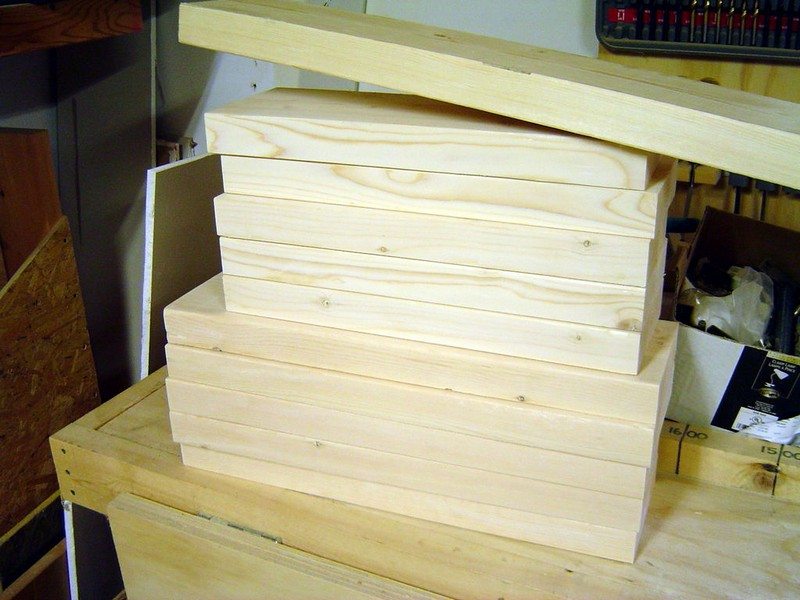 Saw the 2×6 to the following lengths. Note: construction timber is far from perfect. You're better off to buy too much lumber and cut out the worst bits (knots, damaged areas) – the offcuts are good for firewood, and you'll have a nicer loft bed.
Cut these 11 pieces with square ends:
5 x 400 mm, 5 x 486 mm,1 x 962 mm
Cut these 3 pieces with parallel ends at 14 degrees:
1 x 1900 mm, 2 x 1462 mm
Saw the 2×4 to the following lengths, all with square ends:
2 x 2032 mm, 1 x 1200 mm, 2 x 964 mm, 1 x 362 mm, 1 x 162 mm
Cut six pieces of 1/4″ plywood to 250 x 486 mm, and cut some of the good 5/8″ plywood into six strips 20 x 486 mm. Fill all the holes and imperfections in the lumber with wood filler, and sand. You're ready to assemble the frames.
Note: check these dimensions will fit your mattress! The design could accommodate a bigger mattress (double, queen, king) no problem, but you might like to use 2x6s in place of the 2x4s in the frame. Bonus: you'd get a much wider bookcase! There are slight design changes for the loft bed #2, but from here on I'll just describe the cloud bed (#1), for simplicity's sake. The construction is also the same for both. Check the plans for the details.
Continued Page 2…