If you've ever visited a prize-winning garden, you've probably noticed that one of the nicest things is the way little surprises keep appearing. It may be a nicely shaped rock, a small statue or a bird feeder. If you'd like to create that same feeling in your garden, here's a great way to do it. These concrete leaves can be used in many different situations including as bird baths or feeders.
This concrete project is simple and easy to do yet creates a stunning addition to your yard. And perhaps the best thing about them is that they are not alien to your garden. They are made using, and therefore look like, real leaves.
All you need is to look for the biggest,  large veined leaves you can find. Some examples of good leaves are rhubarb, Monstera deliciosa,  philodendron or hosta. Paint them after the concrete has dried and people will surely notice your beautiful decoration! Then you can turn it into a bird bath which makes a great centerpiece in your garden.
Materials:
Leaves (large ones)
Play Sand – 50 lbs for forming
Plastic Wrap – like the one for food storage
Bag of Concrete (sand aggregate only)
Portland Cement (optional)
Nitrile Gloves
Spray Paint/Paint
Chicken Wire – for adding strength (optional)
[adinserter block="11″]
Tools:
Paint Brush (if needed)
Wheelbarrow
Shovel/Trowel – for mixing concrete
[embedit snippet="adsense-728×15-inline-text-only-ad"]
Steps:
Keep your leaves in water until ready to use, but no more than a couple of days.
Press the leaf on a pile of sand to desired shape, mounding or flatening. Remove the leaf, then cover the sand with plastic wrap.  Return the leaf to its original spot.  Prep all leaves to be cast before the next step.
We found that adding Portland cement (Up to a coffee can per 40 lbs.) makes a stronger leaf, and is the easiest way to get the water/concrete to the nice pasty consistency if you've added too much water. A 1/2 bag (about 40 lbs,) of concrete will do 5 medium sized leaves.  We call approx. 18″ across the widest point "medium" sized.  12″ and 24″ would be small and large.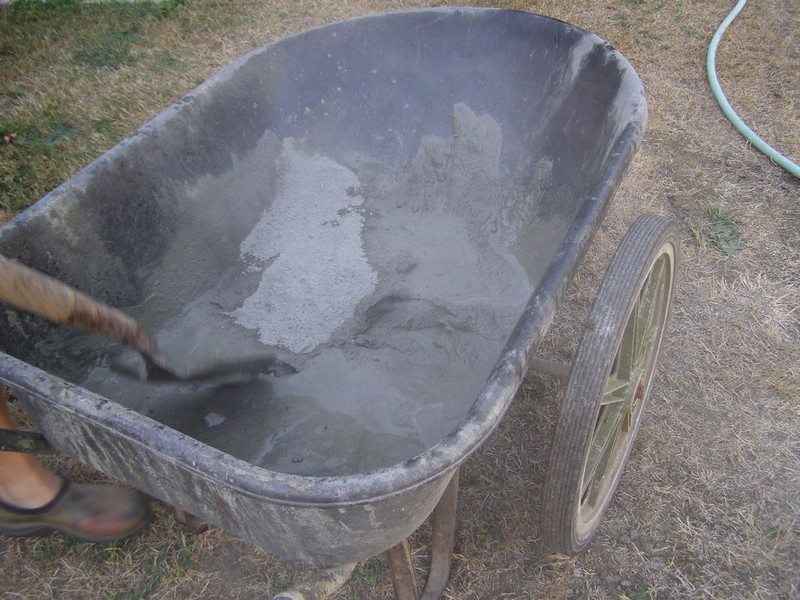 Still talking about a medium leaf, it is about 3/4  to 1″ thick along the rib, tapering to about 3/8″ thick at the edges. Rolling the wrap can neaten up the edges.  Do the thickness in two steps if you plan to add the hanging wire, or mesh tape/chicken wire.  The latter advised if hanging, and for large to monster leaves.
Let it be for at least a day, two is better! The bottle is for scale.
Peeling takes the most time! We've tried compressed air, and a jet of water (from garden hose sprayer).  It seems that patience works best.  The first one still needs work. Needle nose pliers, picks, and stiff brushes can help.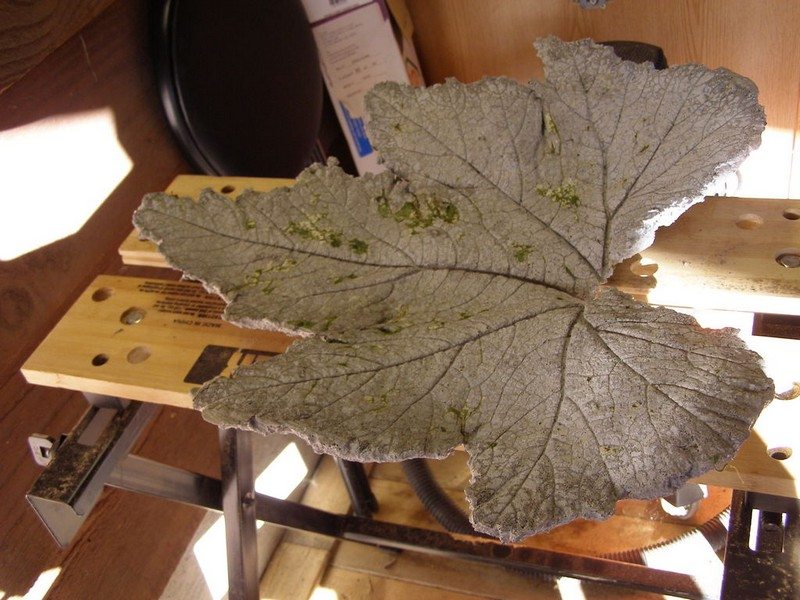 Now we get to painting them.
No holds barred here, whatever you want goes.  We've been liking the metallic look lately, with some accent color in the veins. A sponge for blending works nicely.  Finish with the water seal front and back after the paint has dried and you're done!  Resealing once a year is highly recommended.  One warning, if you bring one to work or a gathering to give to somebody…you will be making more!
You could also use these leaves as a bird feeder by making sure it can hold food. To do this, simply put your leaf (mold) on a higher pile of sand so that you'll have a better concave. What bird can resist such a beautiful leaf?
Thanks to sharonnah59 for this beautiful project.
[embedit snippet="media-net-inline-ad-728×90″]