One of the great ways to enjoy the outdoor is through outdoor cooking. Outdoor kitchens have so many benefits and advantages but cost, usually, isn't one of them
A full outdoor kitchen also requires dedicated space as well as your bank balance. If you don't have the dedicated space or the bank balance, don't despair…
This portable barbecue is a clever solution! You don't need an expensive and full size outdoor kitchen. It just has to be functional and practical. This outdoor kitchen meets both criteria.
This is perfect for those of you who are short on backyard space. It's easy to move around your yard and when not in use, you can easily store it in your garage or shed to keep it protected from outdoor elements.
Could this be your next weekend project?
Click on any image to start lightbox display. Use your Esc key to close the lightbox. 8-)
Materials:
Concrete Mix
Scrap Wood Pieces – for concrete frame
Wood Pieces – mock-up shapes/sizes of the barbecue, cutting board, and sink for making holes on concrete
Copper Tube
Bolts
Barbeque
Cutting Board
Sink
Reinforcing Metal Bars – old dog cage
Hooks
Screws
Water Tap
Hose
Wheel Casters
2×2 Lumber
Plywood
Water
Tools:
Drill
Trowel
Tub – for mixing concrete
Concrete Float
Saw
Steps:
First we need a base, it's optional how you want to build it but I decided to have a cupboard to cover the sink and bucket for wast water.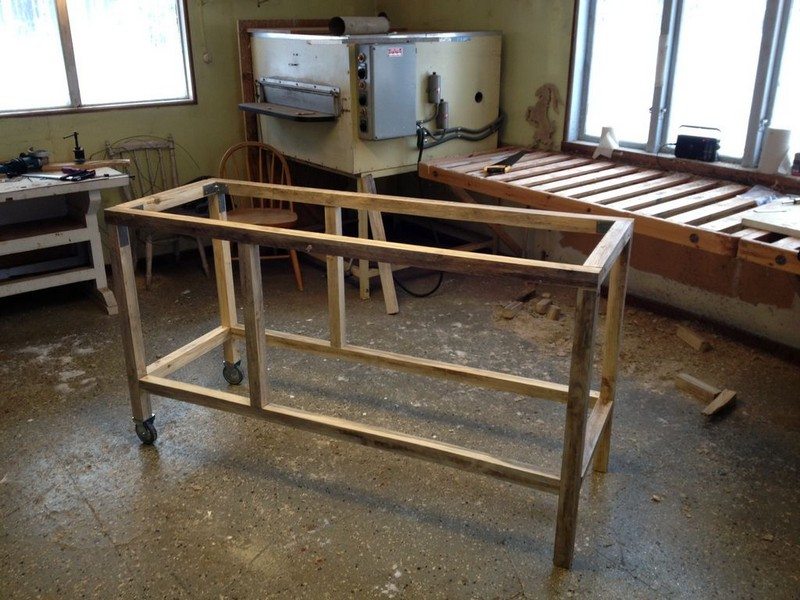 I put two wheels on it to be able to move it. But I recommend to put another two wheels on the other side because it will get very heavy with the concrete top.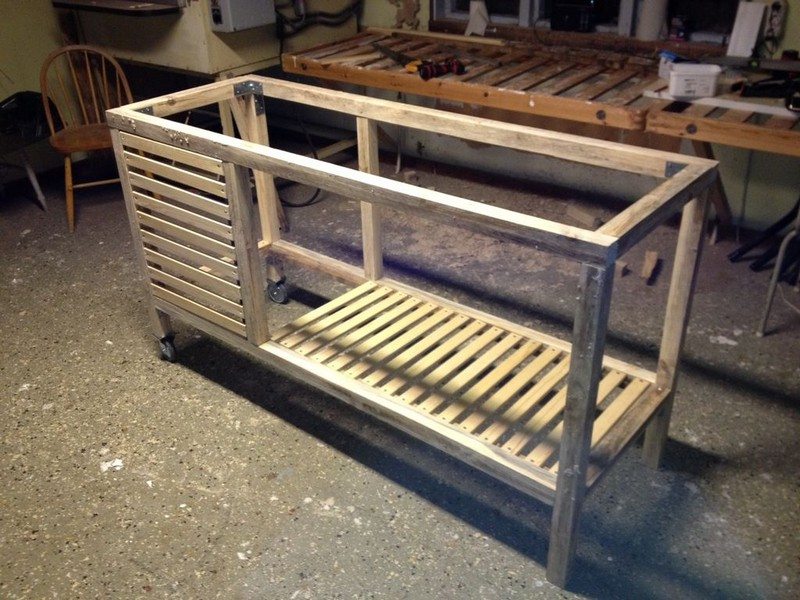 First I bought the barbecue, cutting board and sink. Then I started building on the frame for the concrete with sized holes holes where they will fit. The hole for the cutting board is made by two layers of wood. One in the same size as the cutting board, and one a little smaller. I wanted it to be empty underneath the cutting board to save some weight.
The reinforcing bar is made from an old dog cage. The smaller holes the stronger it will be. Make sure it doesn't touch the bottom of the frame which will be the top surface when it's complete.
Take your time when you add the concrete, make sure you don't get any air bubbles inside.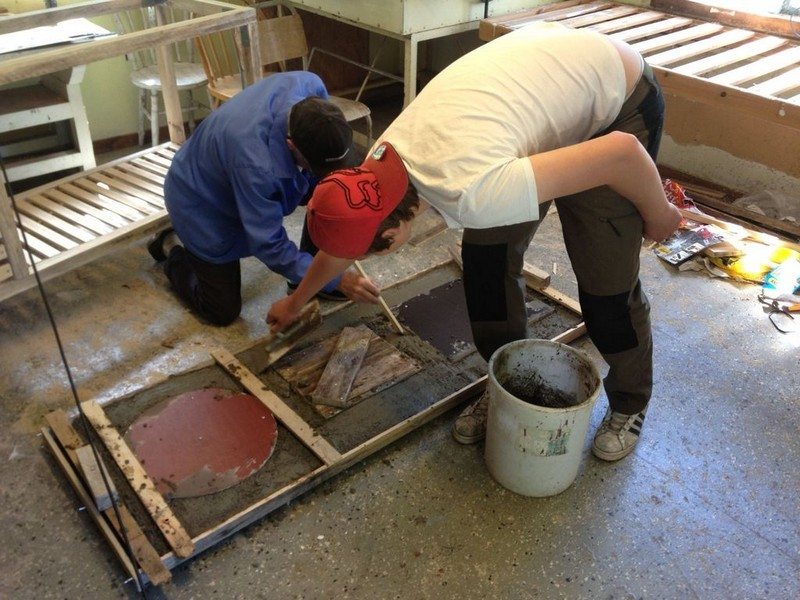 Don't forget to add a bolt on either side to be able to attach it to the wooden frame.
Unfortunately I didn't take any photos while attaching the sink to the frame but it's a bit tricky. Be careful not to get any cracks in the concrete. Add as many hooks, and things as you find necessary.
You don't need a large backyard. You don't have to spend extra time and effort to prepare space for a full, dedicated kitchen. And you don't have to feel bad about your wallet. This simpler and easier outdoor kitchen project will allow you to enjoy your outdoors even more with way less concern.
What changes would you make to make this barbecue more suitable to your needs?
Thanks to Molarin for this great project!